Keynote Speakers
Opening Address
FutureNetworkSummit 2013 will be opened by the General Co-chairs: Mário Campolargo, Director for "Net Futures", DG CONNECT, European Commission and Zeinal Bava, CEO, Portugal Telecom.
Mário Campolargo
Director, Net Futures, DG Communications Networks, Content and Technology, European Commission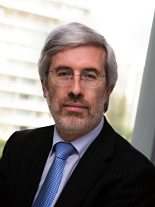 Mário Campolargo is responsible for Research and Innovation on what lies beyond the current Internet architecture, software and services and the EU-Strategy for the Cloud. Previously he has been Director for "Emerging Technologies and Infrastructures" in DG INFSO in charge of Future and Emerging Technologies, ICT based infrastructures for science and ICT trust and security, experimental facilities and experimentally driven research for Future Internet. Before joining the European Commission in 1990, he worked for 12 years in the R&D Centre of Portugal Telecom as a researcher and manager. He has a Degree in Electrical Engineering (University of Coimbra), a Master of Science in Computing Science (Imperial College London), a Post graduate in Management (Solvay Business School Brussels) and a European Studies Diploma (Université Catholique de Louvain-la-Neuve).
Zeinal Bava
CEO, Portugal Telecom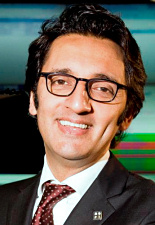 Zeinal Bava is CEO of Portugal Telecom since 2008. Previous responsibilities included Executive Vice-President of PT (2006 - 2008), CEO of TMN (2005 - 2008) and Executive Vice-President of PTC (2004 - 2006). Elected Best CEO in the telecommunications sector in Europe by Institutional Investor (2010 and 2011), Mr Bava is a member of the General Council of the Technical University of Lisbon, serves on the board of the Africa-Portugal Foundation and graduated with a degree in Electrical and Electronic Engineering from the University of London.
Keynote Speakers
Keynote Speakers confirmed to date include:
Entering the Terabit Era
Dr. Aref Chowdhury, Chief Technology Officer Optics, Alcatel-Lucent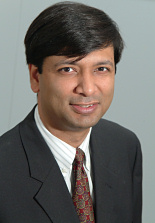 Dr. Aref Chowdhury is the Chief Technology Officer Optics at Alcatel-Lucent. He received his Bachelor of Engineering from the State University of New York at Stony Brook in 1994 in electrical engineering and applied mathematics and statistics, and Ph.D. in electrical engineering from the University of Wisconsin-Madison in 2001. From 1995 to 1997, he worked as a Senior Engineer for Alcatel CIT. After his Ph.D., he joined the Optical Physics Research Department of Bell Laboratories, Murray Hill, New Jersey, USA as a Member of Technical Staff in 2001. He has pursued research in the areas of nonlinear optics, negative refractive index metamaterials, and optical fiber communication. From 2008 to 2010, he served as Senior Manager of Intellectual Property and Standards at Alcatel-Lucent. In 2010 he was appointed as the CTO Advisor on Optical Technologies, and in 2011, he was appointed to his current position as CTO Optics of Alcatel-Lucent. Dr. Chowdhury's responsibilities include identifying optical technologies that will enable future generations of optical communication systems, transferring research ideas from Bell Labs to the Core Networks Division, and developing long term strategy. Dr. Chowdhury is widely published, has numerous patents, and, among his awards, is the recipient of the MIT TR100 Award. He currently serves as the Chair of the Photonics and Optoelectronics Division of the Optical Society of America and is a member of the National Photonics Initiative of the United States.
Abstract
As the demand for bandwidth continues to increase, particularly driven by video and cloud services, the optical communication community needs to prepare for the terabit era (terabit per second transmission per channel) that is fast approaching us. Currently, 100 Gb/s per channel systems are being deployed across the globe and 400 Gb/s systems were announced last year. In addition to the technical challenges for achieving commercially deployable Tb/s line rates, networks need to handle the traffic explosion in both an economic and environmentally-friendly way. We will discuss the opportunities and technical challenges as optical communication systems approach the terabit era. Discussion will focus on technical issues such as choice of modulation format, system reach, reconfigurable optical add drop multiplexer (ROADM) functionality, end-to-end network flexibility, network intelligence, and required enabling technological breakthroughs. In addition to the technical facet, the economic and green aspects of terabit communication will also be addressed.
Next Generation Mobile Network as Enabler for the Network Society
Ulf Wahlberg, Vice President, Industry and Research Relations, Ericsson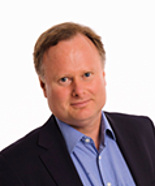 Ulf Wahlberg is Vice President, Industry and Research Relations within Ericsson Group Function Technology, working with external contacts and cooperation with partners, customers, universities, research institutes and governments.
Ulf joined Ericsson in 1984, conducting research in the area of speech coding and signal processing. He has held various senior management positions within product development in the digital mobile systems area where he has played a leading role in development of radio base stations for 2G and 3G mobile standards. Prior to his present position, Ulf was the head of Ericsson Research from 2003 to the end of 2006.
Abstract
We are currently seeing an explosion in content that is transported in our mobile networks and we believe it will even increase in the future. In addition we are expecting additional devices like M2M that will be connected to mobile networks. This will entail new ways of solving the traffic capacity needs and support of new devices. In the future, when everyone and everything is connected, the demand on e.g. capacity, coverage, flexibility and quality on the networks will thus increase. The growth of Mobile Broadband and an environment for open innovation necessitates systems that can deliver services and applications with high quality to many different industry segments, that will be useful and beneficial. Entering The Networked Society introduces many challenges but even more opportunities for our industry. In this talk an overview of what currently is happening in our industry, a vision of the future and some important technical challenges will be presented.
Technology Inspiring a Connected Life: The Internet of Things & Services
Dr. Stefan Ferber, Director Business Development, Bosch Software Innovations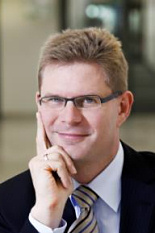 Dr. Stefan Ferber is Director for Business Development in the Internet of Things and Services at Bosch Software Innovations GmbH in Germany - a 100% subsidiary of Robert Bosch GmbH. Dr. Ferber has more than twenty years experience in software development, software processes, software product lines and software architectures for embedded, computer vision and IT domains. Dr. Ferber worked at the research centre of DaimlerChrysler AG in Ulm in the field of 3D computer vision, robotics, and measurement technologies. In 2000 he joined Robert Bosch GmbH working on software architectures and software product lines as an internal consultant and researcher in Frankfurt. Starting in 2004 he was responsible for the Corporate Systems Engineering Process Group (C-SEPG) and the research department for software and system processes at Bosch in Stuttgart. Since 2009 he was the Product Manager for the Bosch eMobility Solution and therefore engaged internationally in the eMobility market, business models, standardization, and technology topics in Europe, Asia, and Australia. Dr. Ferber holds a Ph.D. and a diploma degree in Computer Science from the University of Karlsruhe, Germany and a MSc. in Computer Science from the University of Massachusetts Dartmouth, USA.
Abstract
Internet of Things & Service Trend. In recent years, the internet has transformed communications (Voice over IP, Twitter), the media landscape (news, advertising), commerce (eBay, Amazon) and the music industry (file sharing, online music stores). Now, smart phones and tablets are helping it to permeate our professional and private lives. Given that daily life is ever more interactive and networked, and our contacts ever more global, we increasingly expect everyday objects to be more intelligent and networked, too. And this is a wish that could well soon be granted: Bosch Software Innovations estimates that by 2015 some 75 percent of the world's population, as well as some six billion devices, will have access to the internet. Bosch Software Innovations refers to this trend as the Internet of Things & Services. Open Platforms and Core Technologies for the Internet of Things & Services. With the huge amount of data and events that are coming with Internet of Things there is a clear need for automated processing. Therefore, the Bosch Software Innovations System and Service Platform is based on core components for managing processes (BPM), rules (BRM), data, devices, and reliable cloud services.